Symposium: Media should fight fake news, bias
Share - WeChat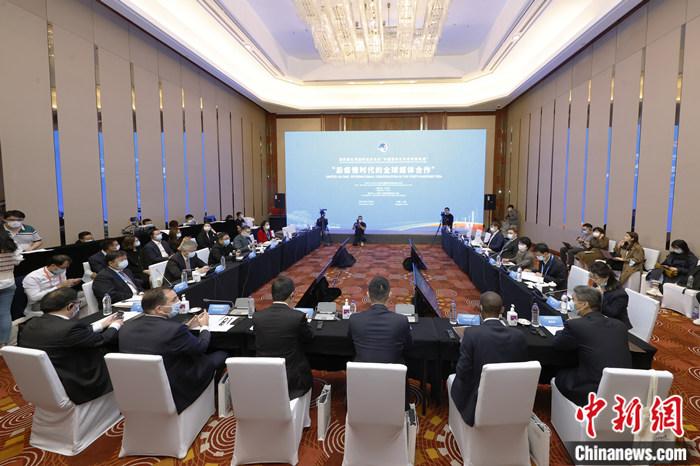 Media organizations around the world should fight disinformation and promote international cooperation to help people of all nations overcome COVID-19, said diplomats and the leaders of more than a dozen media outlets during a symposium in Shanghai on Saturday.
Themed "Unite as One: International Cooperation in the Post-pandemic Era", the symposium was one of the many sub-forums of the Hongqiao International Economic Forum held alongside the fourth China International Import Expo.
Leaders of Chinese and foreign media outlets joined the discussions that took place online and offline.
Gao Anming, vice-president and editor-in-chief of China International Publishing Group, said that the pandemic has prevented face-to-face exchanges between people, and this has heightened the need to build and maintain cultural exchange platforms to boost understanding and prevent misconceptions.
"Media play a critical role in this regard," Gao said, adding that the group has since last year organized more than 50 online activities to bolster communication between young people from various nations.
"Many media outlets have also founded new type of think tanks to focus on international communications and popularization of scholastic research," he said.
Founded by China International Publishing Group, the Academy of Contemporary China and World Studies has forged partnerships with think tanks in countries such as Brazil, Russia and India to enhance knowledge-sharing and personnel exchange, he noted.
"Recently, the impact of the pandemic has fueled the rise of unilateralism, international conflict in trade and the polarization between the rich and the poor. Media should help unite different forces and create favorable public opinions for international cooperation," Gao said.
Carolyn Gibson, chief revenue officer of Euronews, said the pandemic has accelerated the ongoing disruption in the media landscape where newsrooms have had to transition to remote work. The importance of fact-checking, she added, has also been reiterated amid the deluge of misinformation, especially on social media, about the virus.
"Over the last two years, we have developed the principle of service journalism, producing content to make people informed about the complexities of the travel, business and social changes driven by the pandemic," she said in a video speech.
"Since the start of the pandemic, we have seen an unprecedented level of cooperation between media networks. We were in daily contact with our counterparts from other national and global media organizations to discuss solutions, best practices and innovations that would allow us to meet a challenge of this scale," she said.
"We are also partnering with China Media Group to organize virtual events on a wide range of important topics, from trade and culture to biodiversity and carbon neutrality between Europe and China. What has become even more critical in the post-pandemic era is storytelling and information-sharing, which would help break down barriers, and build trust and understanding."
Alex Yeow, CEO of the Star Media Group in Malaysia, said in a video speech that despite the constant changes faced, media still plays a key role in the development of a healthy society.
"Our role was made even more crucial given the surge of misinformation, heightened fears and uncertainty amid the pandemic," he said. "I believe global media cooperation is more important now than ever. It allows the provision of unbiased, balanced and accurate news, especially in a time of crisis."