Climate-resilient investment to pay off
Share - WeChat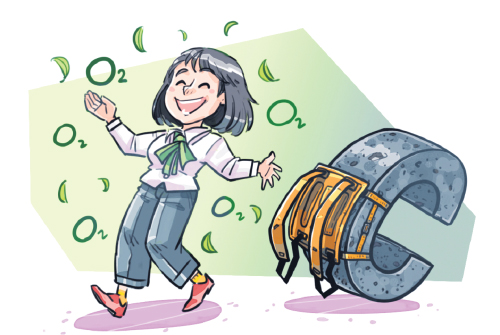 As one of the countries most affected by climate change, China could potentially enjoy high returns from investment in climate-resilient infrastructure development, a report focusing on three case studies has found.
The report, titled Accelerating Climate-Resilient Infrastructure Investment in China, also pointed out that the country urgently needs to broaden financing channels and explore innovative financial instruments to unleash the potential.
Unveiled in Beijing on Monday by the World Resources Institute, the report stressed the importance of climate adaptation strategies for the world to tackle the global climate crisis.
"With the worrying increase in the global average temperature, current climate mitigation efforts are deemed insufficient to cope with the increasing climate risks," it said.
Against this backdrop, investment in climate adaptation projects, including climate-resilient infrastructure, is urgently needed to minimize potential economic losses from extreme weather events, it said.
The report also emphasized that the window of opportunity for accelerating climate-resilient infrastructure development in China is "now".
This year marks the start of the country's efforts to peak carbon dioxide emissions before 2030 and go carbon neutral before 2060. The country's 14th Five-Year Plan (2021-25) and its long-term goals in the coming decade have set the construction of new infrastructure as a priority.
"If climate-adaptation measures can be integrated into the design and construction of new infrastructure, China will not only become resilient in the face of future climate change, but also gain new economic advantages and create new employment opportunities that can benefit its people," the report said.
Focusing on three case study areas-the Ningxia Hui autonomous region, Wuhan, capital of Hubei province, and Shenzhen in Guangdong province-the report analyzed the most frequent and widespread events that could affect Chinese infrastructure in the future, such as droughts, flooding and storm surges.
It estimates that each yuan of investment in climate-resilient infrastructure in China could generate returns of 2 yuan to 20 yuan (31 cents to $3.13) over a 30-year period.
The report said work to improve the climate resilience of infrastructure in China faces an annual funding shortfall of nearly 500 billion yuan over the next five years, based on the average annual investment between 2011 and 2015. A large amount of capital investment and effective financing methods are urgently needed to address the financial challenges China faces in improving resilience, it said.
Considering that the development of climate-resilient infrastructure in China is still dominated by public finance, the report called for stepped-up endeavors from government to leverage private funds and explore innovative financial instruments to ensure adequate funding.
Ma Aimin, deputy director of the National Center for Climate Change Strategy and International Cooperation, said the Chinese government has attached great importance to climate adaptation in urban areas, which are more vulnerable to extreme weather events.
Soon after the publication of a national strategy on climate adaptation in November 2013, China unveiled an action plan for urban areas on the issue. The country also launched a pilot program involving 28 cities in 2017, he said.
China has seen progress on capacity building and the enhancement of monitoring and early warning capabilities according to an assessment of the pilot programs, he said.