Facts speak volumes of ethnic groups' development and improved well-being
Share - WeChat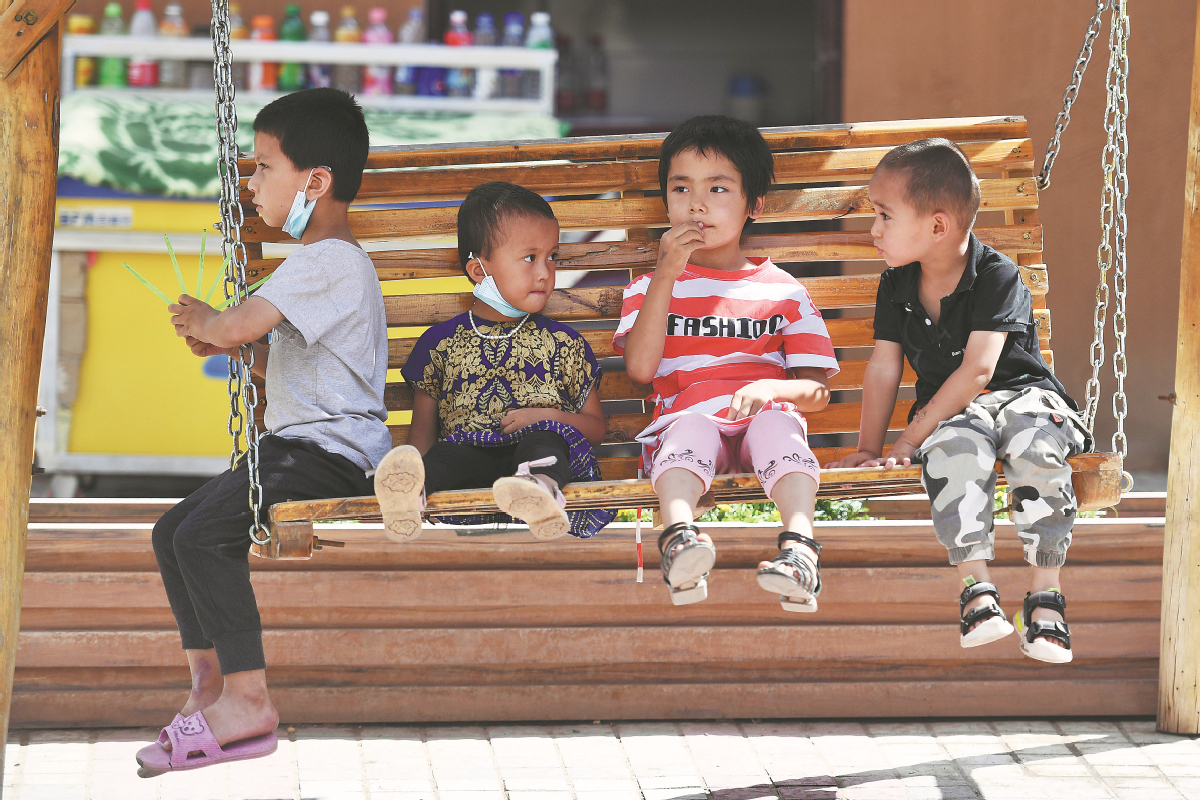 Editor's Note: Some Western media and politicians have always criticized China for its family planning policy. Now they have found a new tool to beat China with, by accusing it of committing "genocide" in the Xinjiang Uygur autonomous region. But the results of the seventh national census and the outcome of the family planning policy give the lie to their baseless claims, writes a veteran journalist with China Daily in the fifth of a series of commentaries.
Results of the seventh national census released in May show the population of ethnic minority groups grew at a much faster pace than that of the majority Han people in the past decade, although the latter still comprise 91.11 percent of the total population.
The census results also show the population of China's ethnic minority groups increased 10.26 percent in the past decade, more than twice that of the Han people's 4.93 percent. The total population of the non-Han ethnic groups now stands at 125.47 million. The faster growth can be largely attributed to China's preferential family planning policy for ethnic minority groups.
After the People's Republic of China was founded in 1949, five provincial-level autonomous regions were established in the border areas for the ethnic minority groups. In the areas where ethnic minority groups were concentrated in other provinces, autonomous districts and counties were established to better protect their interests.
While the Constitution makes it clear that people of all ethnic groups are equal members of the larger family of China, the governments at different levels have implemented favorable policies to help the ethnic minority groups, which usually live in remote or mountainous areas, to improve their socioeconomic health.
When China implemented the single-child policy in the late 1970s and early 1980s to curb the rapid increase in population, the ethnic minority groups were largely exempted from it. While Han couples in cities were allowed to have only one child, those belonging to ethnic minority groups were allowed to have two children. And in rural areas, where Han couples were allowed to have two children if their first child was a girl, those of ethnic minority groups could have three or more.
Colleagues from ethnic minority groups such as Tibetan, Mongolian, Uygur and Hui used to be envied by others because they could have two children. The preferential treatment of ethnic minority groups does not end there. When their children take high school or college entrance exams, five to 10 extra points are added to their total scores as part of affirmative action.
Yet of late some Western media outlets and politicians have accused China of committing "genocide" in the Xinjiang Uygur autonomous region. The accusation is not new to me, as I have been a keen observer of the Xinjiang and Tibet issues. Years ago, the same accusation was made against China in regard to the Tibetan people.
The fact is, the population of Uygurs in Xinjiang grew from 10.17 million in 2010 to 12.71 million in 2018, an increase of more than 25 percent-whereas the Han population increased by a mere 0.2 percent. More important, the Uygur population has more than doubled in the past 40 years.
How can a country that not only promotes the development but also issues preferential policies for ethnic minority groups, which help their population to grow at twice the rate of the national average be accused of committing genocide against them? The central and Xinjiang authorities deserve an explanation from those Western politicians and media for leveling such unfounded charges against them.
The naive may tend to believe in rumors and fabricated narratives. Indeed, some people are desperate to create chaos and damage China's national unity and stability. And perhaps we can't stop them from pointing fingers at and fabricating lies to stigmatize China.
But we should let those people know that their baseless accusations have become a laughing stock among the Uygur people who are enjoying their development, and among the millions of tourists who have seen the development, stability and prosperity of Xinjiang. We can also advise them to believe in facts, and see reality as it is instead of trying to bend it to their liking.
The facts are there for all to see, and facts speak louder than anything else.
The author is former deputy editor-in-chief of China Daily.
If you have a specific expertise, or would like to share your thought about our stories, then send us your writings at opinion@chinadaily.com.cn, and comment@chinadaily.com.cn.
Most Viewed in 24 Hours
China Views