Loss, love and a new lease of life
Share - WeChat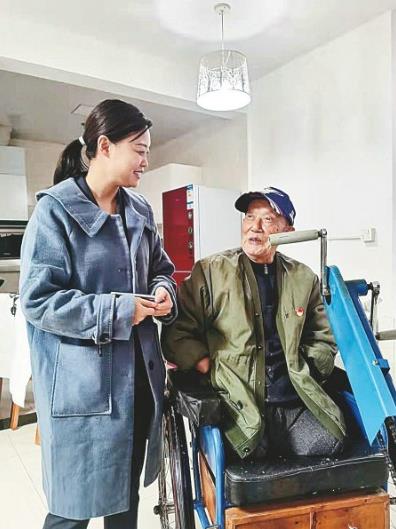 He communicates with friends on social media platforms, such as WeChat and QQ, and practices calligraphy, producing work that is collected by VIPs, and when it is sunny, he leaves his fourth-floor apartment to buy dumplings in a restaurant nearby.
He has two sons and one daughter. His eldest son, who lives in the same town, visits him every Saturday and they enjoy a happy afternoon together.
Zhou Quandi lives a fulfilling life, which some might find surprising given the 87-year-old war veteran is missing his lower limbs.
He lives in the Sichuan Provincial Disabled Revolutionary Armyman Hospital in Xinfan town in Xindu district of Chengdu, Sichuan province.
A native of Nanbu county in Sichuan, Zhou was a soldier with the Chinese People's Volunteer Army who served in the War to Resist US Aggression and Aid Korea (1950-1953), and 71 years ago, he sustained injuries during a major battle near Changjin Lake. He associates the battle with the words "cold and cruel."
When the current hit movie about the battle was shown at the hospital, he couldn't even sit through the whole thing as it stirred many powerful emotions.
"The film is a good production, but the actual battle was far more cruel," Zhou says.
It was -40 C at Lake Changjin. Zhou and most of his fellow soldiers came from South China and had seldom seen snowflakes. They wore thin cotton-padded clothes and galoshes.
"Our mission was to block the US 1st Marine Division. Everyone had been lying in the snow for three days and nights and waited quietly for the enemy to enter the encirclement. When the charge horn sounded, my hands and feet were numb and they would not move no matter how hard I struggled and then I blacked out," Zhou recalls.
When he finally came to, it was the seventh day after the operation to amputate his legs and left hand.
"Doctors had tried to keep my right hand, but because the frostbite was so serious, it had rotted and blackened and was finally amputated," Zhou explains.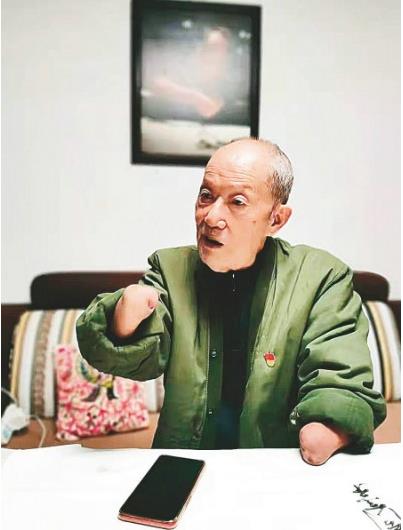 A teenager at that time, Zhou felt a sense of hopelessness and considered suicide on numerous occasions, but nurses stayed with him around the clock, taking turns to read stories of handicapped Chinese and overseas veterans who managed to lead meaningful lives.
Calming down, Zhou decided to try and live up to the expectations of the nurses, starting anew with a fresh perspective on life.
In the beginning, nurses would feed him three meals a day. He asked them to tie a spoon to the remainder of his right arm with a cloth string, which he used to feed himself.
"It took one hour to finish a single meal, half of which I dropped. I then asked nurses to use an elastic band to fasten the spoon to my arm and, gradually, began to find it easier to eat," Zhou says.
After several months of trial and error, he finally succeeded in moving from his bed to a tricycle, which enabled him to move around outside the ward without the help of others.
His indomitable spirit moved a fellow veteran in the ward, who offered to introduce his unmarried cousin Zeng Fanshun, a nurse in what is today Chongqing, to him.
Because of the scale of his physical impairment, Zhou turned down the veteran's offer. Undaunted, the veteran told Zhou's story to his cousin anyway, who was herself moved by his strength and courage. She wrote a letter to Zhou showing her admiration and encouraging him to adapt to his new circumstances.
Zhou did not want to ask somebody else to write love letters to his would-be girlfriend. Instead, he used what remained of his arms to practice writing with a pen.
"After we exchanged letters for two years, we treated each other as a better half. Later, she married me and lived with me in the hospital despite the strong opposition of her parents," Zhou recalls.
Having loved and lived with Zhou for four decades, in 2001, his wife, Zeng, died of cancer at the age of 68.
"She missed the good times, where we could have lived a much better life," Zhou says, sadly.
"When we got married, I received 34 yuan ($5) a month from the State. Now, I receive more than 8,000 yuan. The State is very kind to us veterans," he adds.
Zhou lives alone in a spacious two-room apartment and pays an elderly local man to cook for him each day.
"A monitor in my bedroom can measure my blood pressure and heartbeat. Nurses who work round the clock on the first floor can see the data," Zhou says.
According to hospital's president Zhang Chengping, Zhou's apartment has a call device.
"Caretakers on the fourth floor and nurses on the first floor will rush to his aid once he presses the button of the device," Zhang says.
Most Popular